Comments Off

on Jerry Colangelo Discusses USA Basketball (Part 1)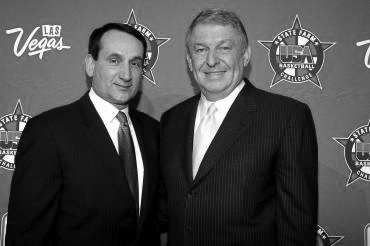 USABasketball.com sat down with recently re-elected USA Basketball chairman Jerry Colangelo for a five-part interview covering a wide variety of topics.
In Part 1 he discusses why he accepted a second term as chairman of USA Basketball, highlights of his first term as chairman, the challenges aheadfor USA Basketball in 2013-16, and how his 43 years in various capacities with the NBA Phoenix Suns have helped him run USA Basketball.
Colangelo, 2009-12 USA Basketball chairman and managing director of USA Basketball's 2006-08 and 2009-12 men's national teams, was re-elected on Nov. 13 as chairman of USA Basketball's Board of Directors for the 2013-16 term.
Read More at USA Basketball.com