Comments Off

on Jerry Colangelo plans Coach K talk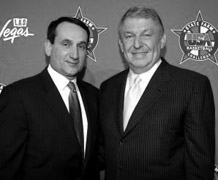 Jerry Colangelo had little reaction to Mike Krzyzewski's latest comments about his future as U.S. Olympic basketball coach.
Nothing changes until he hears it from Krzyzewski himself — and it isn't time for that yet.
"He and I always have to have a final discussion," the USA Basketball chairman said Wednesday. "That's all. And you should know I'm prepared either way for what the result of that discussion might be."
Krzyzewski told ESPN Radio's "Mike & Mike in the Morning" on Tuesday that he expected the Americans to pick a new coach this summer. The Duke coach said during and after the Olympics that he didn't plan to come back after winning a second straight gold medal, and said his stance hadn't changed.
Neither has Colangelo's.